Each year, PDPPS chooses three county princesses to be the new state royalty team at the annual state princess pageant. The princesses are judged on public speaking, dairy industry knowledge, poise and personality. Each princess prepared a speech, presentation, radio spot and poster display promoting milk and dairy foods; submitted a scrapbook of promotion activities; took a dairy promotion knowledge quiz; submitted a dairy food recipe and participated in an interview with a panel of four judges.
A state dairy princess and two alternates are chosen each year.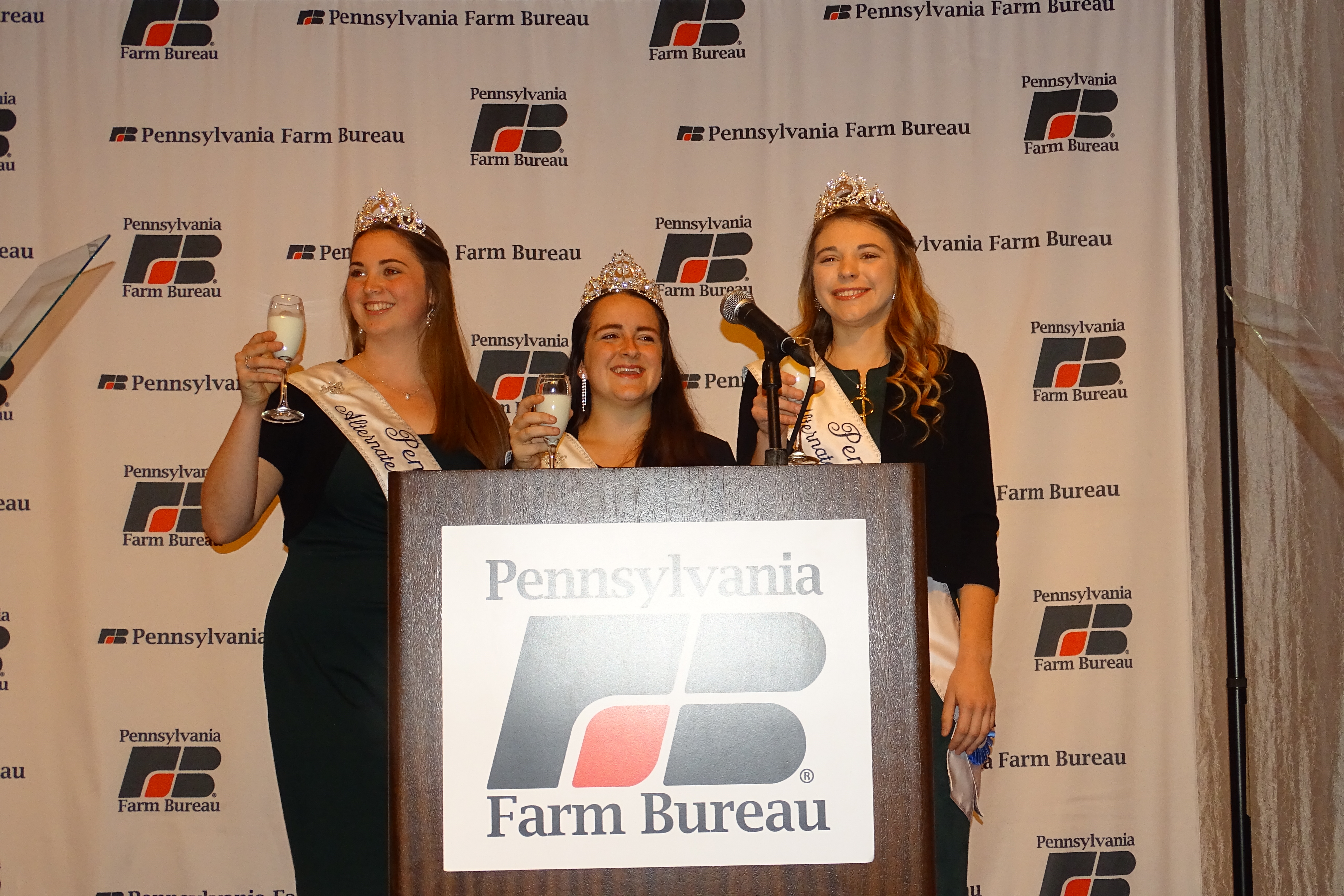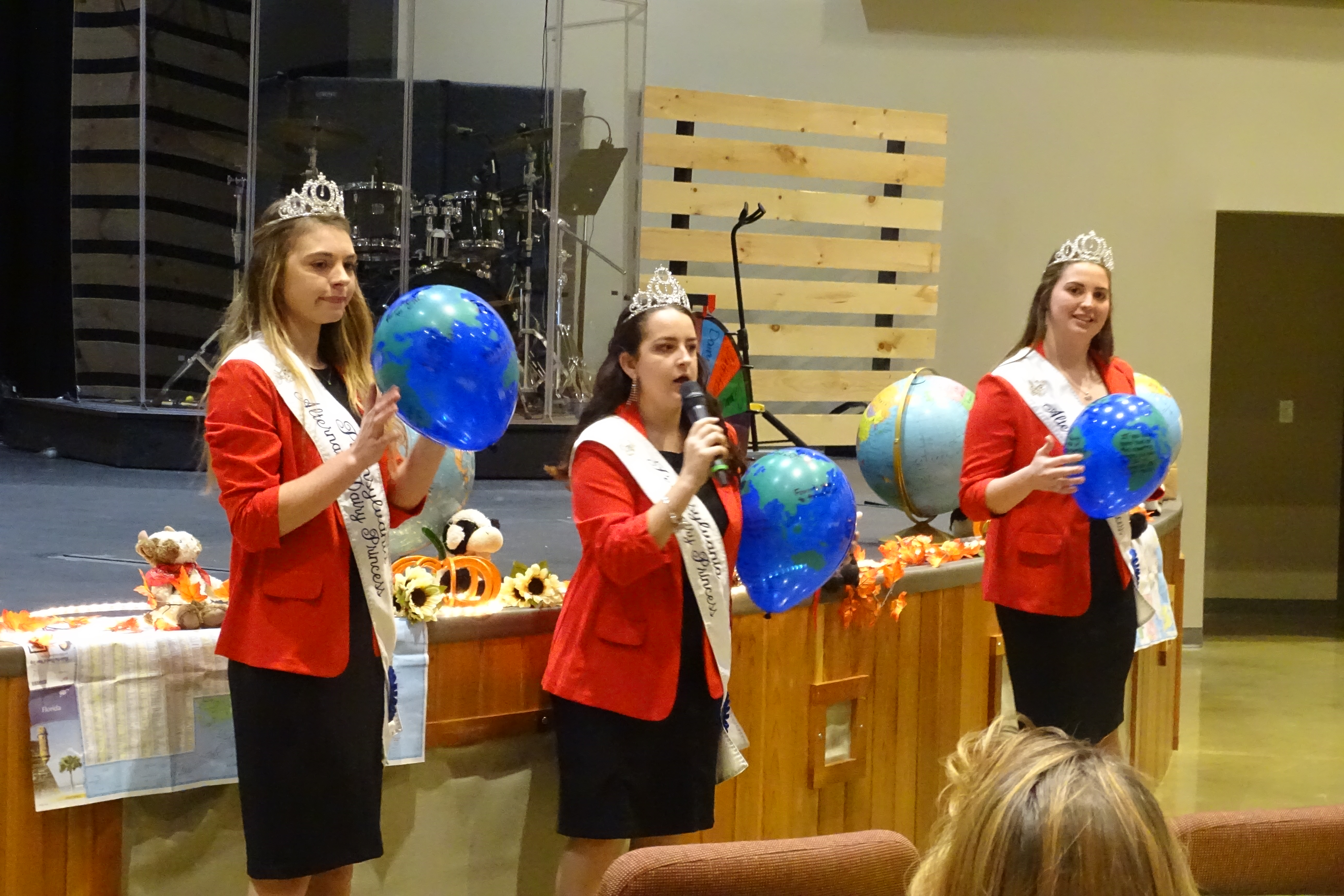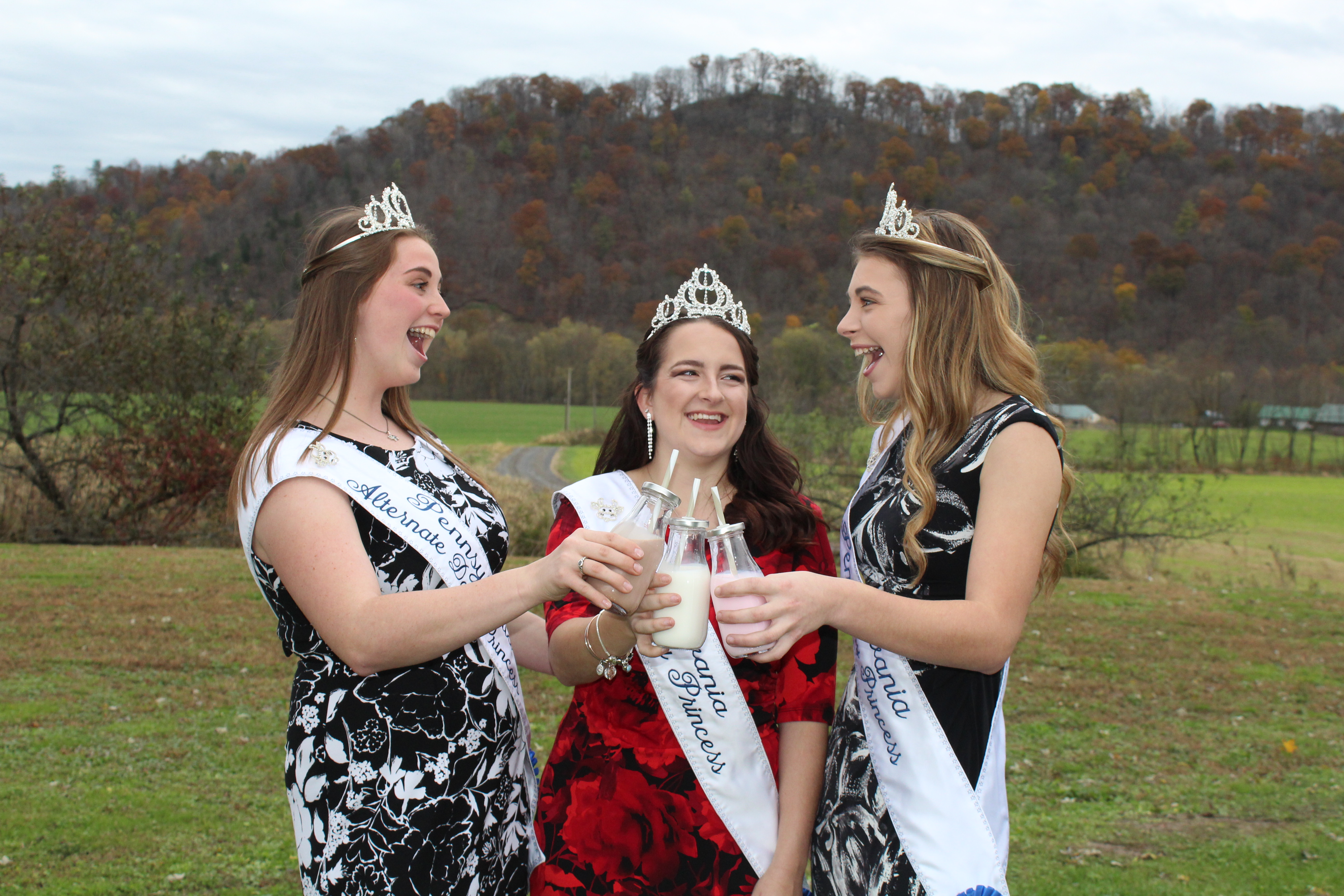 2018 – 2019 PA State Dairy Princess Royalty Team
Brooke Emery
2018-2019 PA State Princess
Alexandria, Pa.
Huntingdon County Dairy Princess
Brooke Emery is daughter of Bill and Lisa Emery of Alexandria, Pennsylvania. She lives on a small hobby farm with her brother, William, and her parents where they raise Hereford beef cattle, Satin rabbits, and Boer goats. She has been a lifelong member of 4-H and FFA where she evolved an interest in dairy cattle. Brooke began working on Hill Crest Farm in Alexandria where she fed calves and assisted around the farm as needed. She also began leasing show cows from Heron Run Farm in Huntingdon.
Brooke is currently a senior at Juniata College majoring in Pre-K to Fourth Grade Education and currently student teaching at Corl Street Elementary School in 4th grade. On campus Brooke is involved in Juniata Instructors of the Future where she serves as Secretary, a choreographer for Juniata College Dance Ensemble, and a member of the National Society of Leadership and Success.
Outside of college, Brooke is actively involved in the Presbyterian Church of Alexandria and the Shaver's Creek Grange.
My passion for agriculture has been a part of my life since the day I was born. I am also lucky enough to follow in my mother's footsteps as she also served as the Huntingdon County Dairy Princess.
The dairy industry has made such a huge impact on my life and has presented me with so many amazing opportunities. I am humbled, honored, and blessed to serve as your 2018-2019 Pennsylvania Dairy Princess.
Samantha Haag
2018-2019 Pennsylvania Alternate Dairy Princess
Mohrsville, PA.
Berks County Dairy Princess
Samantha Haag is the daughter of David and Mary Haag. She resides in Mohrsville, PA near the 7th generation Haag Family Farm in Berks County. Through middle school, Samantha, her sister Brittany and her parents lived on the family farm. In 2010, Samantha's brother, Michael, and his family took over the family farm, continuing the dairy farming legacy. Samantha also has an older sister Jessica, and nephew Tyler who grew with her on the farm.
Today, Samantha is the Wholesale & Office Manager at Way-Har Farm Market LLC. She assists in managing the storefront, makes ice cream, processes all the dairy orders, delivery of milk and assists wherever needed.
Samantha is proud of her dairy roots, but her passion for horticulture is an equal love in her life as she learns to manage her grandfather's 14-acre orchard, along with her father. She hopes to operate the orchard one day.
Aside from her love of agriculture, Samantha teaches acrobatics, helps at church, rides bike and loves line dancing and spending time with her family and friends. She has represented Berks County as their 2018-2019 Berks County Dairy Princess.
Kara Stultz
2018-2019 Pennsylvania Alternate Dairy Princess
Williamsburg, PA.
Blair County Dairy Princess
Kara is the 18-year-old daughter of Rob and Tammy Stultz of Williamsburg, Pennsylvania. Kara has an older brother, Hunter and a younger sister, Rylee. They reside on their 4th generation 210- acre family farm "Stultz Farm" where she feeds calves, takes care of show animals and milks daily. The principal crops grown on the farm are alfalfa, corn and barley; they have a total herd of 300 and milk 100, with milk being shipped to Dairy Farmers of America. Kara joined dairy promotion in 2007 as a Future Princess, continued with the program and became Alternate in 2017-2018. She is currently a senior at Central High School and serves as Student Council President and is a member of the Varsity Softball Team. Upon graduation, she plans to attend Penn State University in the fall of 2019 majoring in Agriculture Business and Communications.
Kara is serving as the 2018-2019 FFA President of her local Central Cove FFA. FFA has provided her many opportunities to participate in dairy judging, land judging, public speaking and other competitions. She also shows dairy beef and rabbits through her FFA Chapter. Kara has been an active 4-H member of the Morrison's Cove Dairy Club, Blair County Swine club, and Blair County Lamb Chops Club.
Kara was a member of Blair County's first ever Science of Agriculture Club, where they competed at regionals and states. Another hobby and passion of Kara's is growing and selling pumpkins and gourds with her brother. Outside of agriculture and school; Kara is also a member of Fairview Church of the Brethren where she is very active in their youth group.