Each year, PDPPS chooses three county princesses to be the new state royalty team at the annual state princess pageant. The princesses are judged on public speaking, dairy industry knowledge, poise and personality. Each princess prepared a speech, presentation, radio spot and poster display promoting milk and dairy foods; submitted a scrapbook of promotion activities; took a dairy promotion knowledge test; submitted a dairy food recipe and participated in an interview with a panel of three judges.
A state dairy princess and two alternates are chosen each year.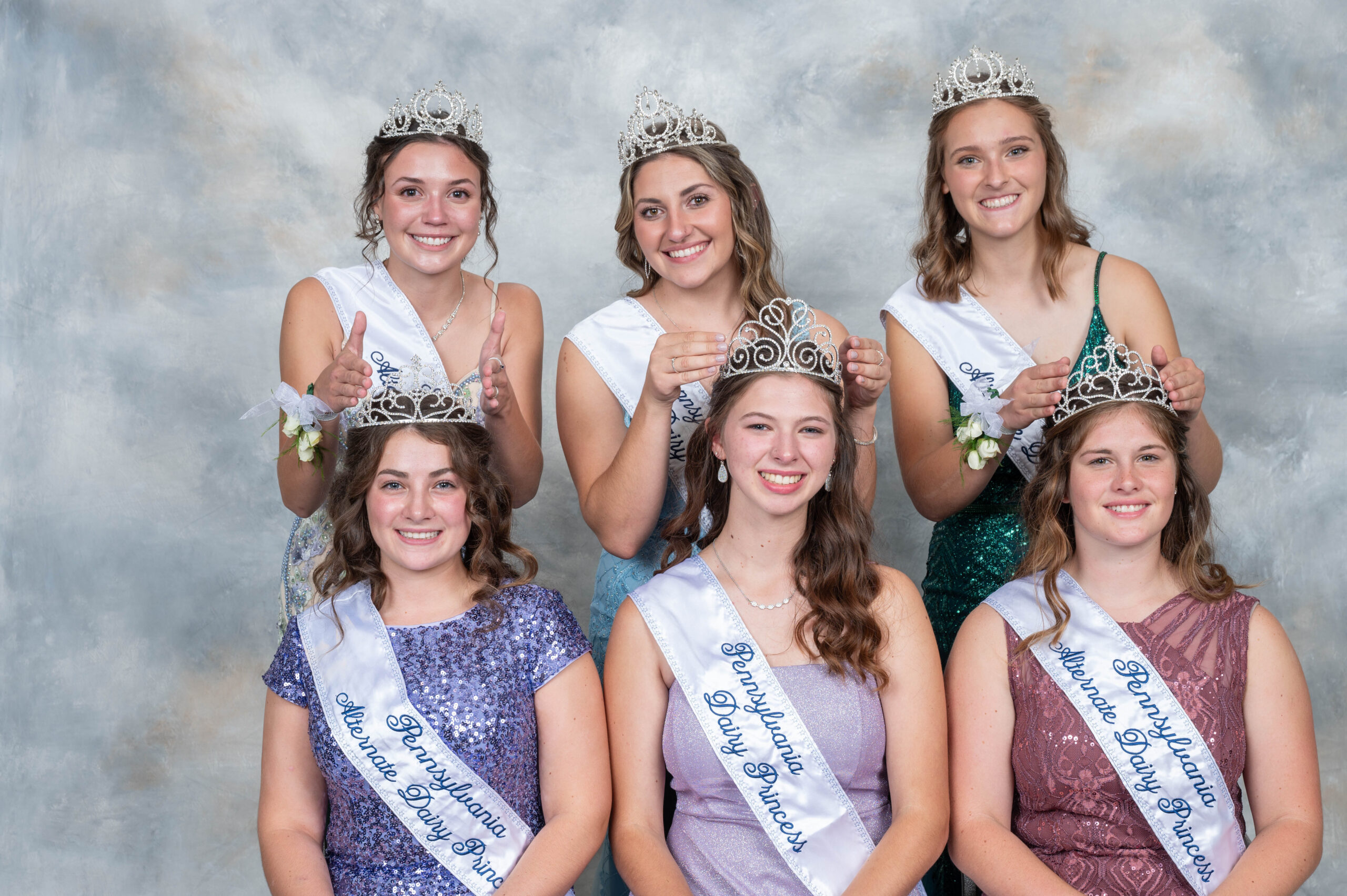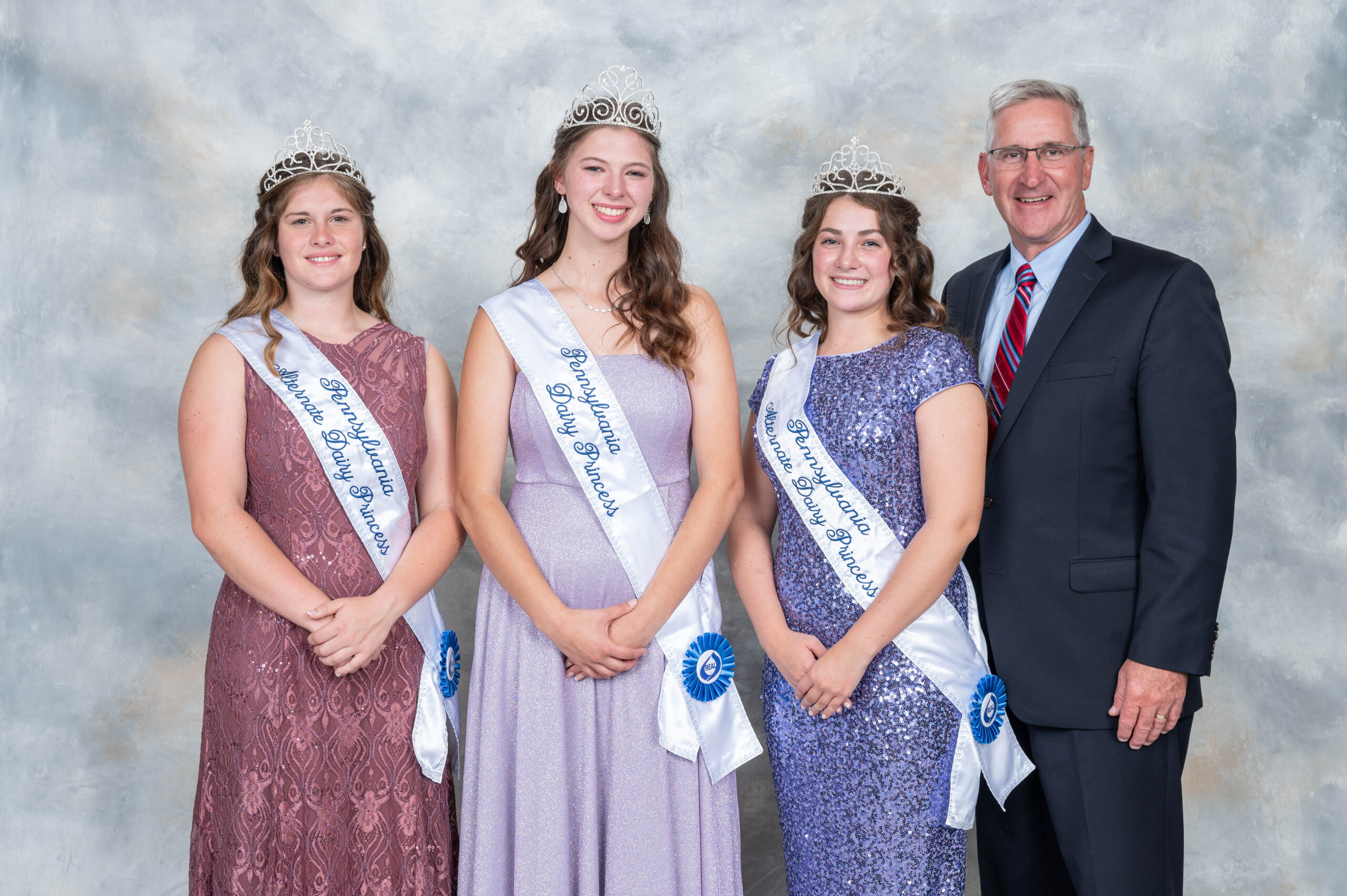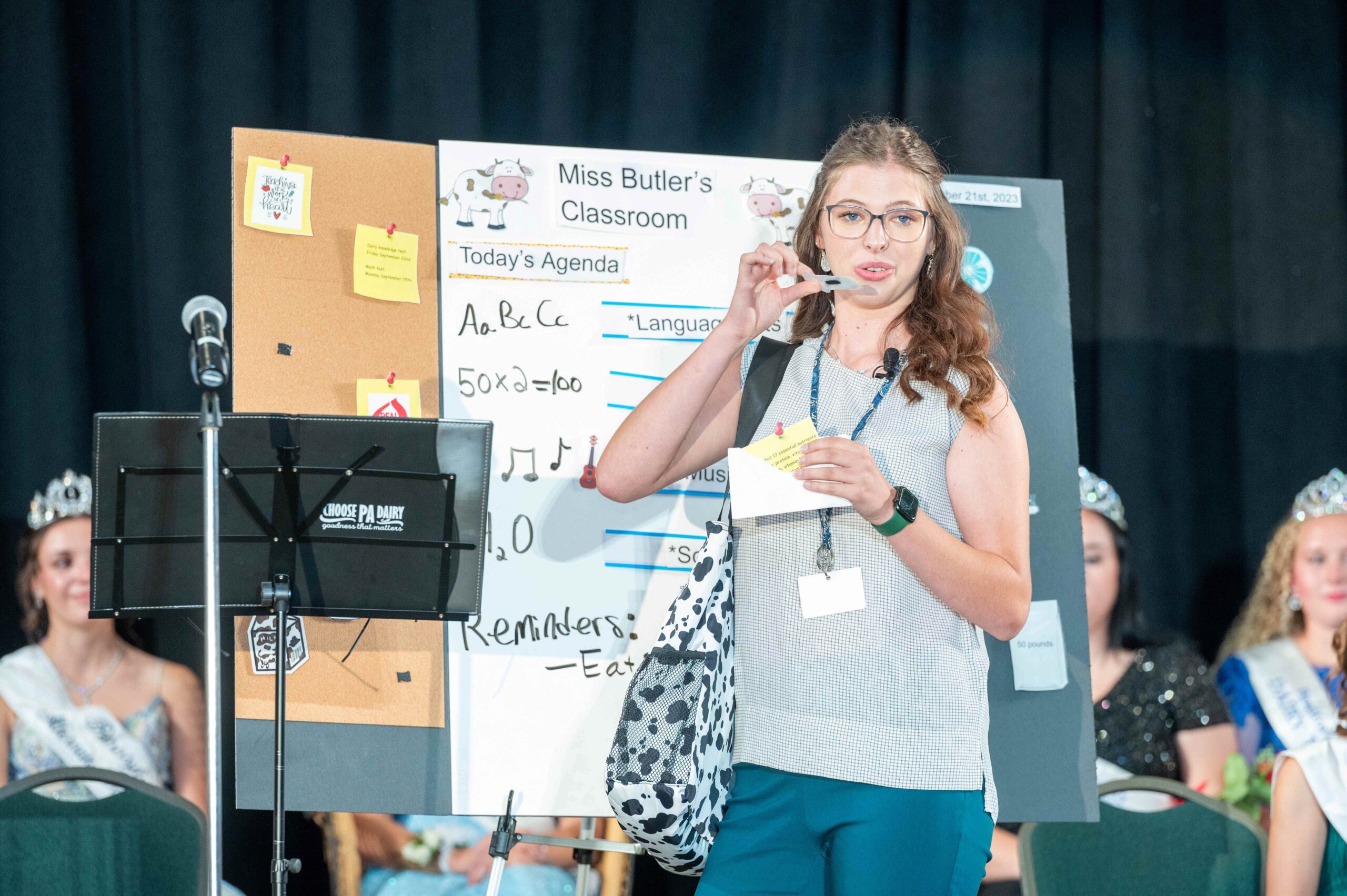 2023 – 2024 PA State Dairy Princess Royalty Team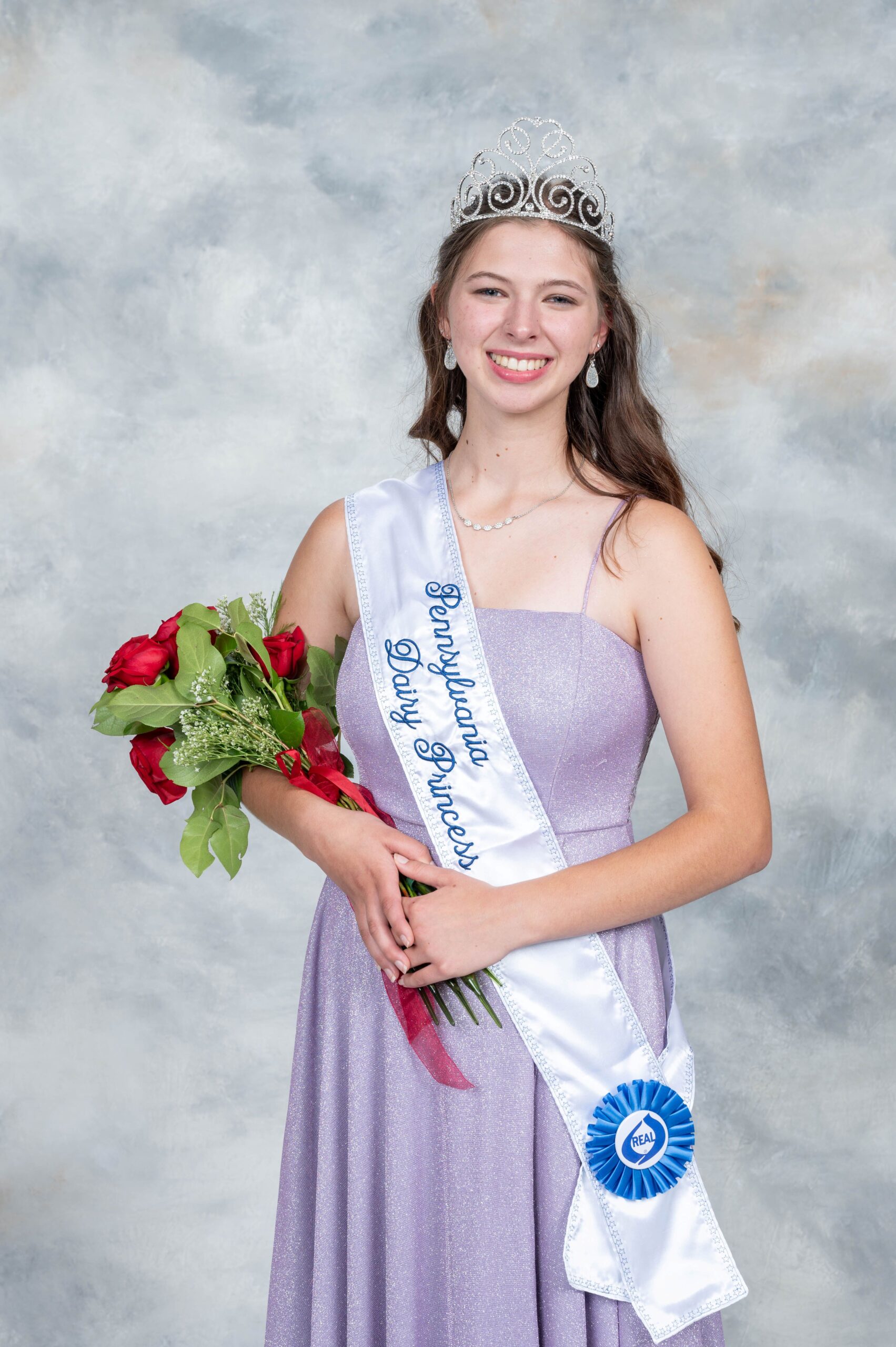 Alexis Butler
2023-2024 Pennsylvania State Dairy Princess
Pine Grove, Pa.
Schuylkill County Dairy Princess
The daughter of Ted and Tonya Butler, Alexis, is a current Junior at the Pine Grove Area High School where she participates in archery club and is an active FFA member serving as Chapter President. Alexis serves as the junior class President and works to assist the students and teachers in her school. She has one older sister, Allison. Alexis works at a local dairy farm where she feeds calves and milks the cows. She also enjoys showing Brown Swiss dairy cattle, Holstein dairy beef, market goats, and market lambs at her county fair. She is an active member of her church, the Pine Grove Community Church as well as the Circle youth group. In her free time, she sews, sings, and enjoys spending time with family and friends.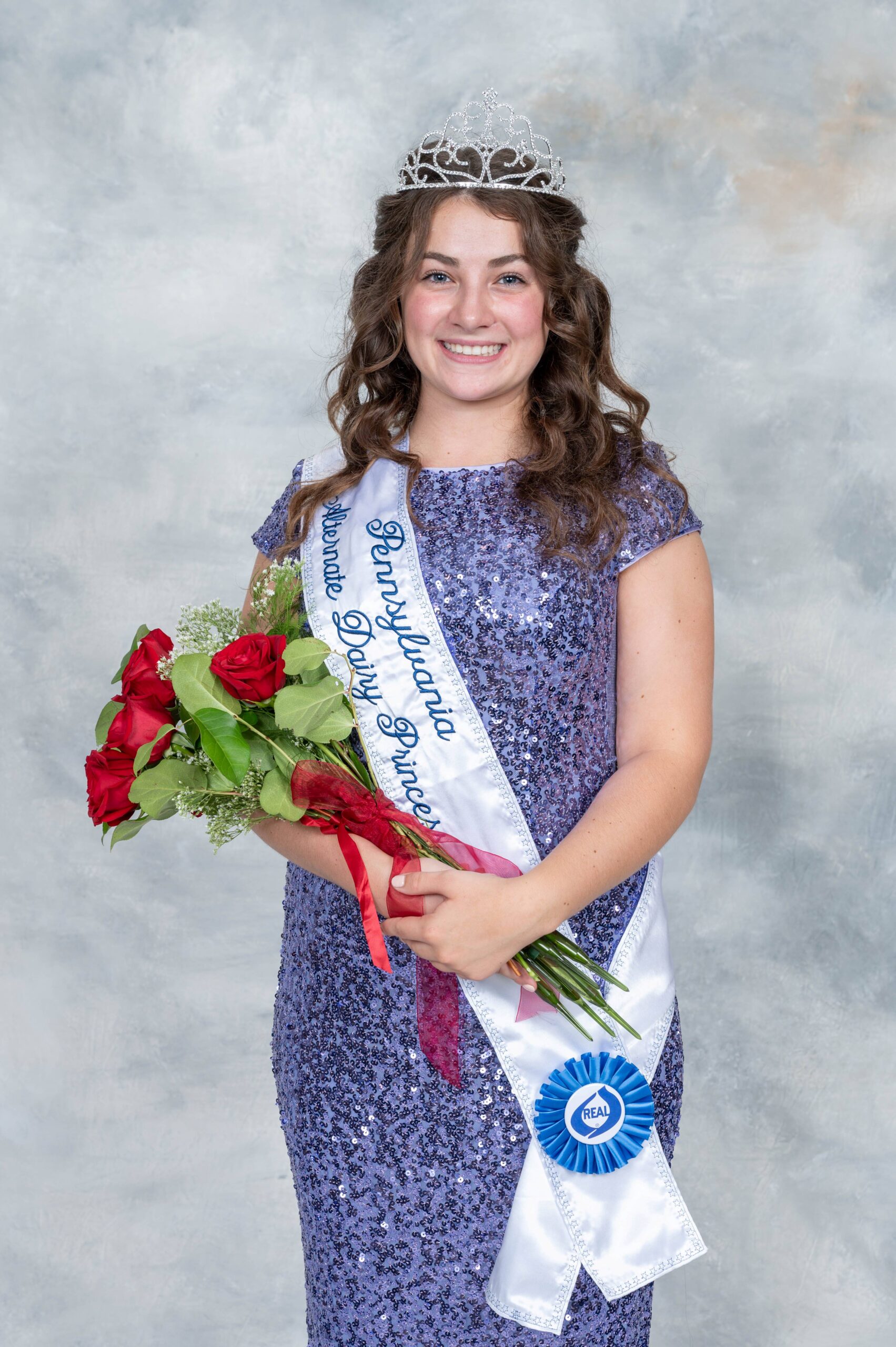 Emily Wright
2023-2024 Pennsylvania Alternate Dairy Princess
Cochranton, Pa
Crawford County Dairy Princess
Emily Wright is the daughter of Kevin and Kim Wright of Cochranton PA. Emily helps on her third-generation beef and dairy farm Wright Way Farm alongside her father. Her farm was primarily dairy until the early 2000s when they stopped milking. However, they kept heifers and some cows at other farms until around 2015. Her family showed their heifers until 2020. She has an older and younger sister. Emily was an active member in her 4-H club Blooming Valley for 9 years, showing alongside her sisters and cousins. She held a president's office as well as several others throughout her years in 4-H. Emily attended Cochranton Jr. Sr. High School where she played on the varsity soccer team, was a cheerleader, and was a member of the French Club. During her years in high school, she participated in many church activities such as youth group and running vacation bible school. She is attending PennWest Edinboro as a junior. In college, she is involved in the Chi Alpha Ministry group and was elected in Wayne township as the Inspector of Elections. In her free time, she reads, shows cows, camps, and hunts.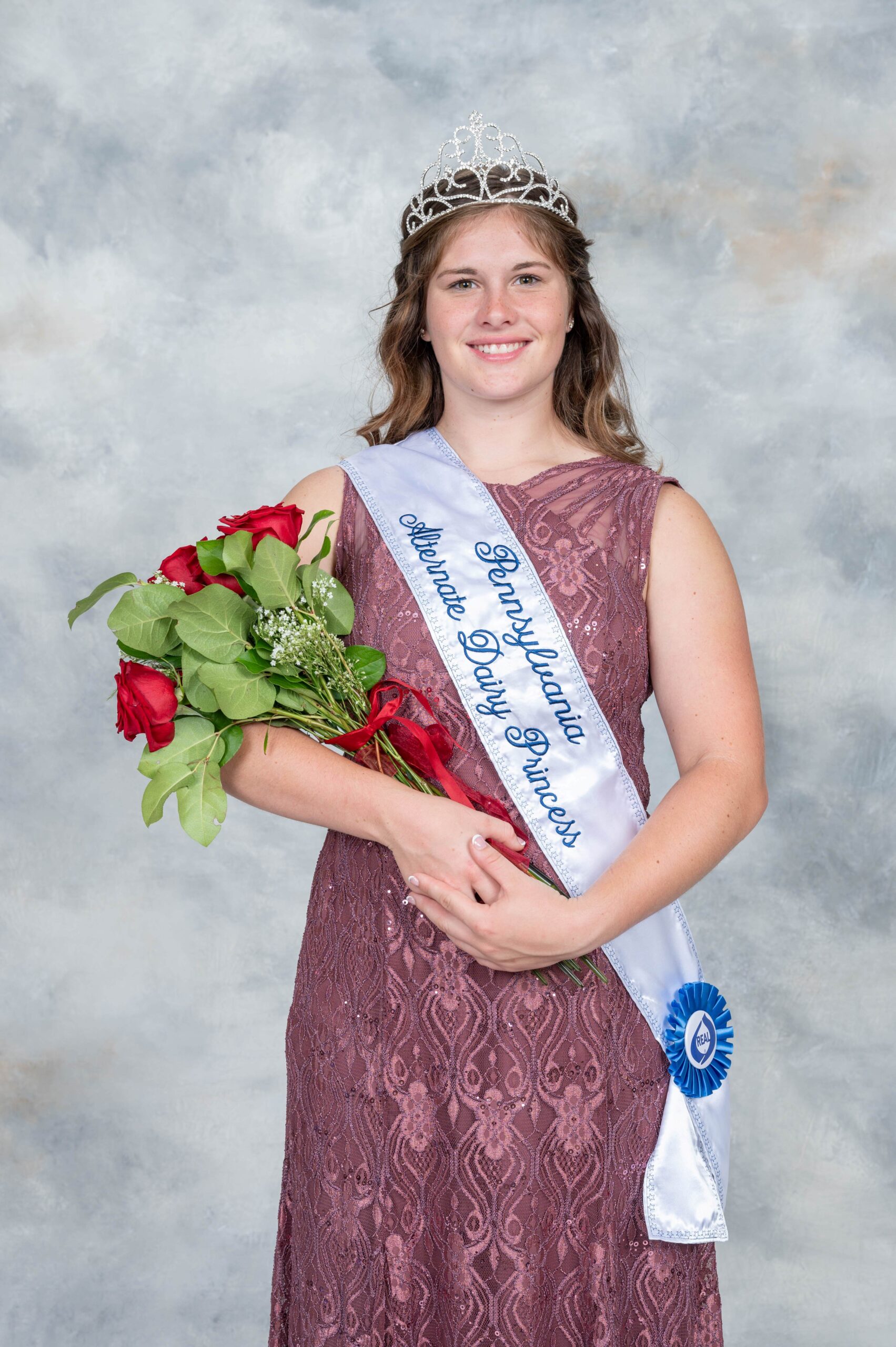 Mackenzie Thomas
2023-2024 Pennsylvania Alternate Dairy Princess
Lebanon, Pa
Lebanon County Dairy Princess
Mackenzie Thomas is the proud daughter of Mark and Christine Thomas. She has one older brother. Mackenzie is a graduate of Cedar Crest High School where she was heavily involved with FFA, sports, and Future Business Leaders of America. Mackenzie works at Furnace Hill Holsteins where her favorite cow, Sensation, lives. Mackenzie loves her job and the people she gets to see everyday. She enjoys milking, feeding calves, and occasionally giving medical attention when needed. In her spare time, she enjoys dirt biking, spending time with her family, going on new adventures, and being the farm girl God destined her to be. The only thing that comes before her family is her love of God, and after her family, she holds Furnace Hill and the cows very dear. She also has a passion for wrenching on diesels and heavy equipment. If she's not in the barn, she's in the shop. She has an undying and undeniable passion for agriculture, especially the dairy industry, and it radiates to everyone she knows.