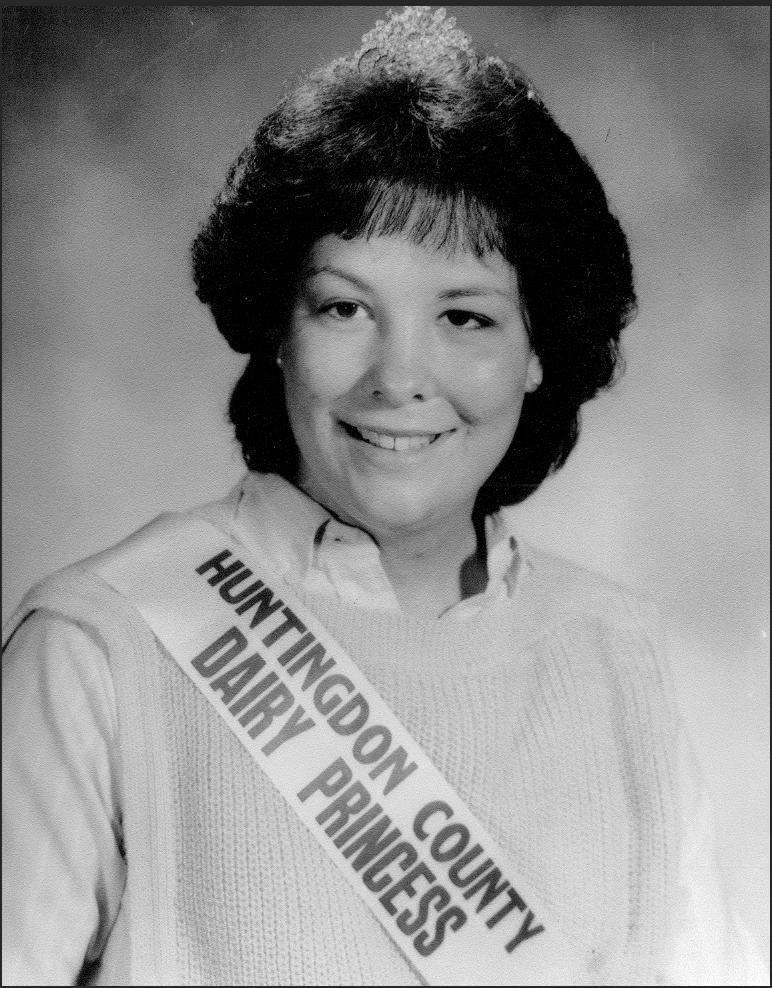 The Tina M. Shultz Memorial Award is given to a county dairy princess in recognition of her dairy promotion efforts throughout her year of reign.
Tina Marie Shultz was a member of the 1985-1986 reigning county dairy princesses. Tina was crowned the Huntingdon County Dairy Princess in June of 1985. She did an outstanding job of promoting the dairy industry and its foods under extreme personal difficulties.
Three months prior to her county pageant, she lost her left leg to cancer. Throughout her county reign, Tina battled the insidious disease, even when she was hospitalized. Tina seldom missed an engagement or opportunity to promote despite her adversity. Beth Heald, 1985-1986 Pennsylvania Dairy Princess, wrote "Tina represented the dairy industry with a sense of pride and devotion that was admired by everyone who knew her…(she) fulfilled her role as Dairy Princess with as much enthusiasm and hard work as those of us who are healthy."
Following Tina's death in May of 1986, her sister princesses established a fund for an award to be given in her honor each year at the State Pageant. It seemed fitting that the "Outstanding County Promoter Award" initiated in 1985 be designated the "Tina M. Shultz Memorial Award."
In 1993, a second memorial was attached to the "Tina M. Shultz Memorial Award" in memory of Margaret Shultz of Montgomery County who succumbed to cancer that year. Margaret was also a sister princess of the reigning 1985-1986 class.
This award is given annually to the county princess who has done the most effective job of serving her county. It is based on the number and types of appearances she has made as an individual and the local circumstances under which she has served.
The winner of the Tina M. Shultz Memorial Award must be a dedicated, enthusiastic promoter for the dairy industry who is willing to go "beyond the call of duty" to carry out her county dairy princess responsibilities and dairy promotions.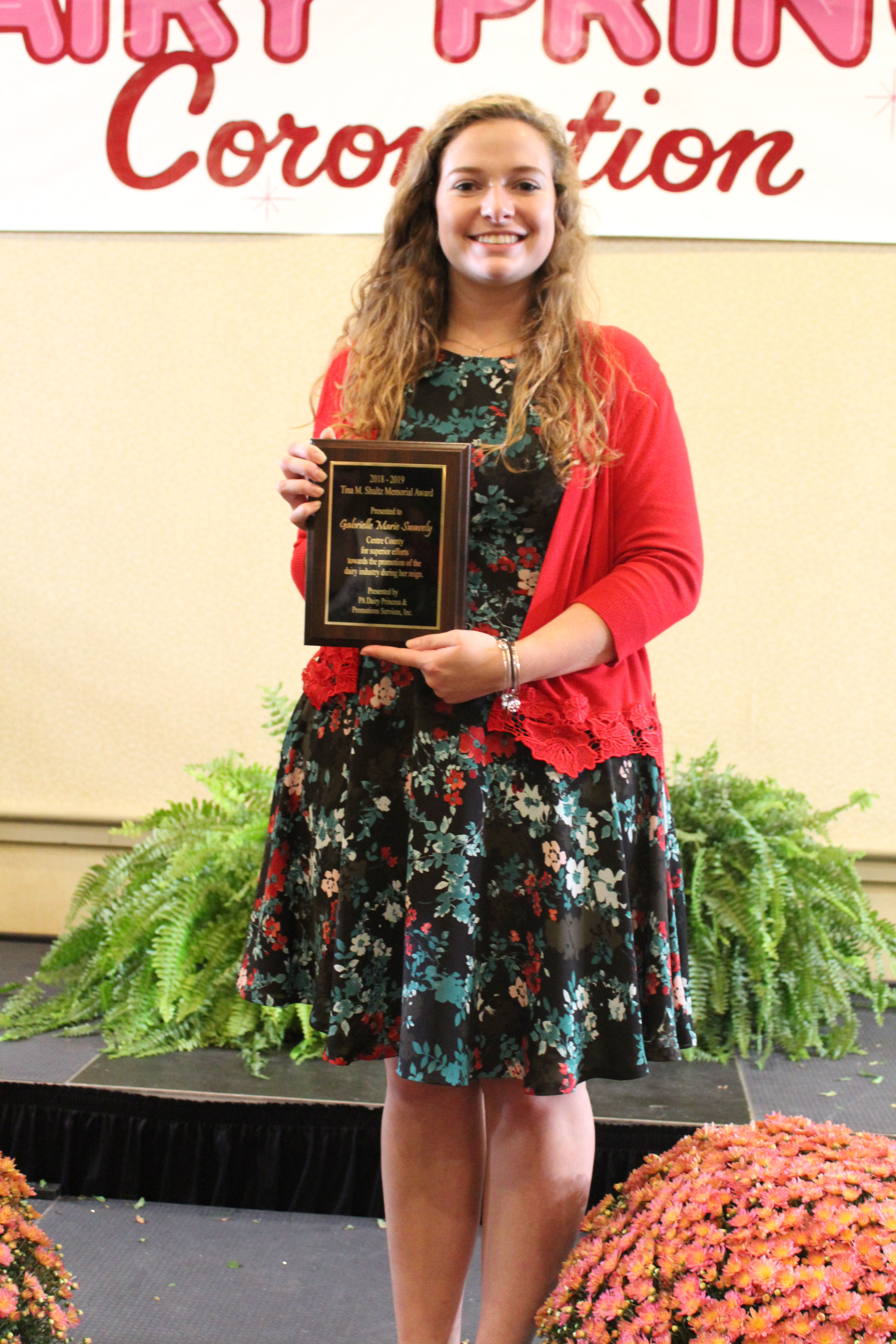 2018-2019 Centre County
Dairy Princess, Gabrielle Swavely.
Former Tina M. Shultz Award Recipients
1984-1985 Judy Miller, Lancaster County
1985-1986 Jill Kutz, Wyoming/Lackawanna County
1986-1987 Laurie Suzanne Smith, Blair County
1987-1988 Jenny Sue Bigelow Plummer, Blair County
1988-1989 Angelique McDonald Walason, Bedford County
1989-1990 Anne Marie Mitchell Rohrbach, Berks County
1990-1991 Teresa J.Hill Shuey, Lebanon County
1991-1992 Jessica Gourley Ricquer, Warren County
1992-1993 Carrie Bryant Bomgardner, Wayne County
1993-1994 Angela Baker, Lebanon County
1994-1995 Rachel Tanis Mead, Centre County
1995-1996 Yvonne Peterman Fogal, Lycoming County
1996-1997 Emily Metz Keegan, Huntingdon County
1997-1998 Julie McConnell Salmon, Beaver-Lawrence County
1998-1999 Jessica Bailor, Juniata County
1999-2000 Lauren D. Daubert Zuber, Clinton County
2000-2001 Melinda Sue Wolfe Criswell, SUN Area
2001-2002 Rebecca A. Mowrer Couch, Huntingdon County
2002-2003 Jessica Marie Landis, Somerset County
2003-2004 Megan E. DeHart Greathouse, Butler County
2004-2005 Amy Elizabeth Hartle, Centre County
2005-2006 Genna Chilson, Bradford County
2006-2007 Katie Johanne Waddell, Crawford County
2007-2008 Abby Elizabeth Flick, Butler County
2008-2009 Anna Mae Flick, Butler County
2009-2010 Krystal S. Wasson, Centre County
2010-2011 Melissa Dehart, Butler County
2011-2012 Gabrielle Murphy, York County
2012-2013 Maria Jo Noble, Bradford County
2013-2014 Madeline Daubert, Schuylkill County, Halee Wasson, Centre County
2014-2015 Ashley Mohn, Berks County
2015-2016 Hannah Kauffman, Juniata County
2016-2017 Katie Anderson, Huntingdon County
2017-2018 Katrina Bliss, Huntingdon County
2018-2019 Gabrielle Swavely, Centre County