PDPPS is made up of 45 county princess programs. Each program is run by a volunteer promotion committee.
Dairy royalty are avaialable to attend or host a variety of promotions including, but not limited to: attend
meetings (such as civic groups, PTA/PTO, MOPS/MOMS groups, and more), give speeches or
presentations, visit schools and daycares, guest write, provide recipes and give milk toasts.
If you are interested in having a local dairy representative at your event,
please contact the local county booking chair.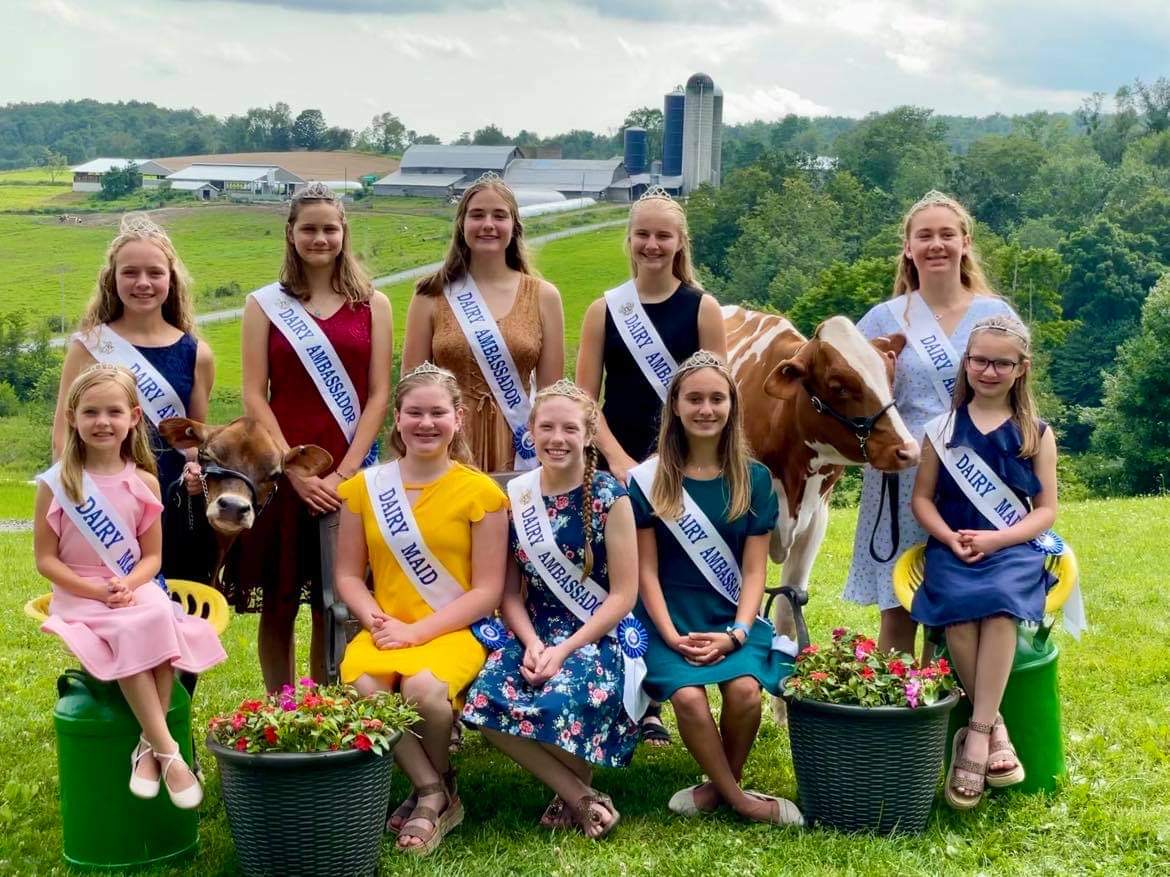 COUNTY 
BOOKING CHAIR
PHONE NUMBER
Bedford

Shelby Gochnour

(814) 414-3511

Berks

Donna Werley

(610) 562-2070

Blair

Kristy Bigelow

(814) 832-2993

Bradford

LuAnne Antisdel
Or 
Michala Forrest

(570) 395-3305
Or
(570) 637-2986
Bucks

Ruth Ann Moyer

(215) 345-7327

Butler

Sandy Stephenson

(724) 285-1296

Cambria

Ashley Pauley

(814) 574-2956

Centre

Candy Wasson

(814) 237-2339

Chester

Sharon Nolan

(610) 593-7465

Clarion-Venango

 

Jessica Kaltenbach

(814) 758-7876

Clearfield

Shannon Henry

(814) 762-9313

Clinton

Sue Dotterer

(570) 726-6087

Columbia

Stephanie Ryman

(570) 854-3615

Crawford

Krista Petruso

(814) 439-0369

Cumberland

Jen Myers

(717) 713-0284

Dauphin

Darla Romberger

(570) 648-3540

Delaware

Casandra Long

(904) 521-7649

Erie
Cindy Szymanski

(814) 449-4294

Fayette

Pam Wolfe

(724) 439-3126

Franklin

Patty Hege

(717) 375-2811

Fulton

Katie Waite
(814) 644-9909

Huntingdon

 
Carrie Anderson

(814) 448-3854

Indiana

Bobbie Farren 

(724) 465-7031

Jefferson

Robin Mowery

(814) 633-1043

Juniata

Karen Shearer

(717)527-2221

Lancaster

Dale Smith

(717) 336-0553

Lawrence

Donna Slick

(724) 714-6605

Lebanon

Tara Bomgardner

(717) 639-5114

Luzerne

Sandy Traver

(570) 298-2001

Lycoming

Becky Steppe

(570) 279-6757

Mercer

Carrie Prinkey

(724) 977-8455

Mifflin

Kristin Diehl

(215) 360-4468

Montgomery

Gene Zvarick

(484) 948-6916

Perry

Amy Fleisher

(717) 576-7987

Potter/McKean

 

Ashley Larson

(814) 203-0896

Schuylkill

Jodi Heffner

(570) 739-1153

Somerset

Andrea Stoltzfus

(814) 267-6711

Sullivan

Noreen Keeney

(570) 637-8203

SUN Area




(Snyder, Union,




Northumberland,




Montour counties)

Susan Hauck

 

(570) 966-3760

Susquehanna

Evie Goff 

(570) 278-1212

Tioga

Carolyn Moyer

(570) 324-2482

Warren

Carrie Ludwick

(814) 779-8659

Washington

Sherry McMurray

(724) 255-9165

Wayne

Joan Schweighofer

(570) 224-4619

Westmoreland

Samantha Ament

(724) 261-6800

Wyoming-Lackawanna

Charlene Espenshade

(570) 361-2844

York

Heather Gibson

(717) 586-3118