Each year, PDPPS chooses three county princesses to be the new state royalty team at the annual state princess pageant. The princesses are judged on public speaking, dairy industry knowledge, poise and personality. Each princess prepared a speech, presentation, radio spot and poster display promoting milk and dairy foods; submitted a scrapbook of promotion activities; took a dairy promotion knowledge quiz; submitted a dairy food recipe and participated in an interview with a panel of four judges.
A state dairy princess and two alternates are chosen each year.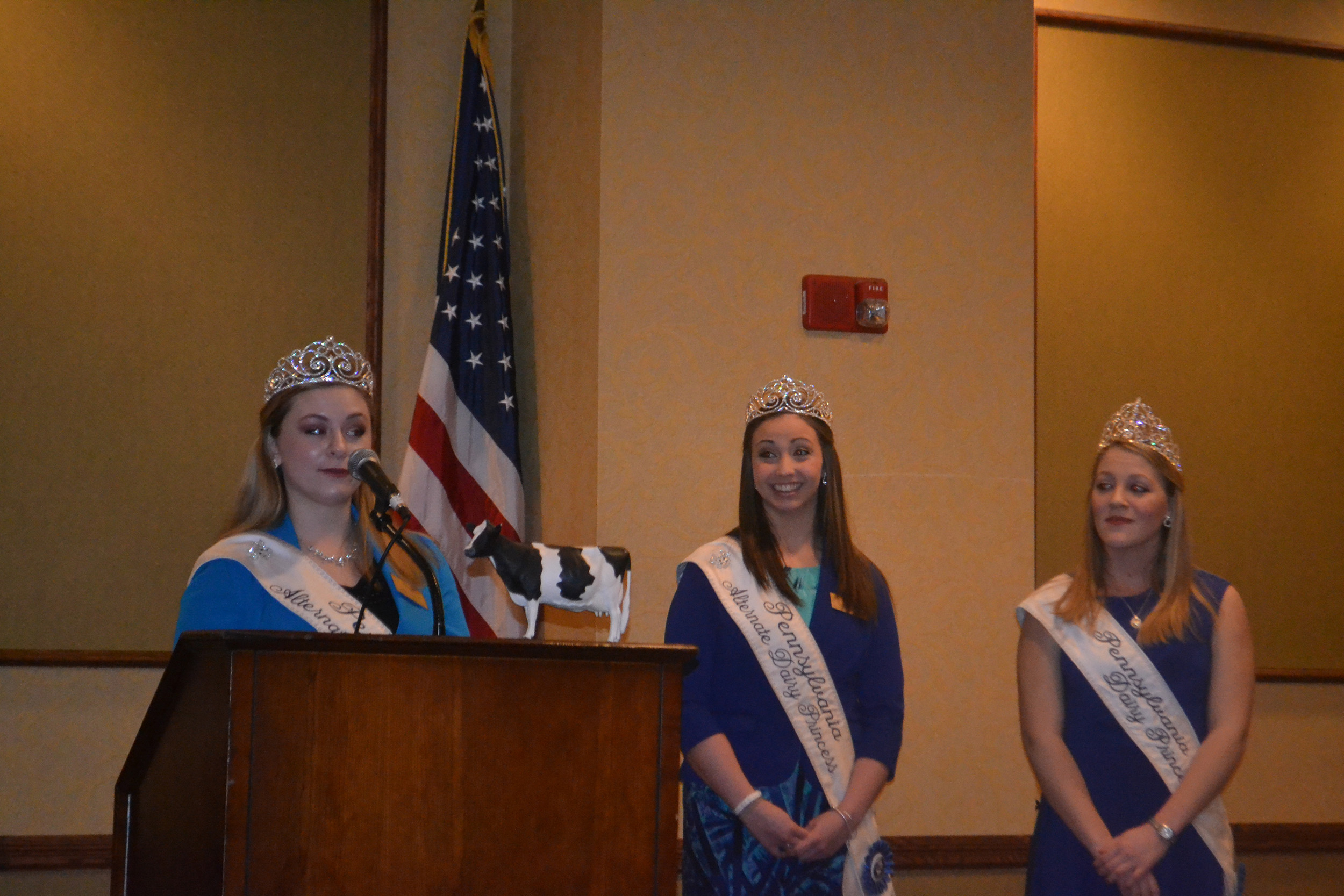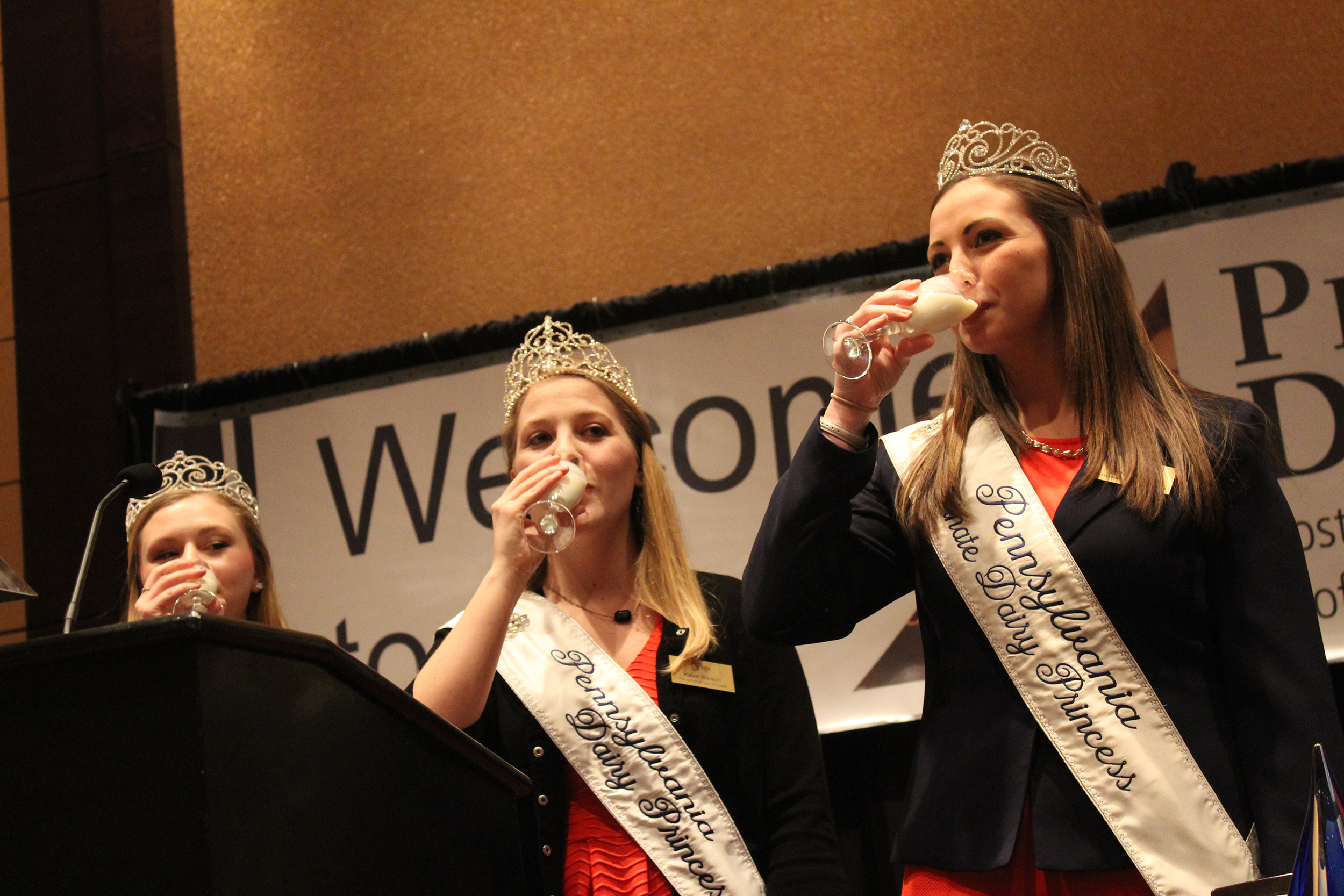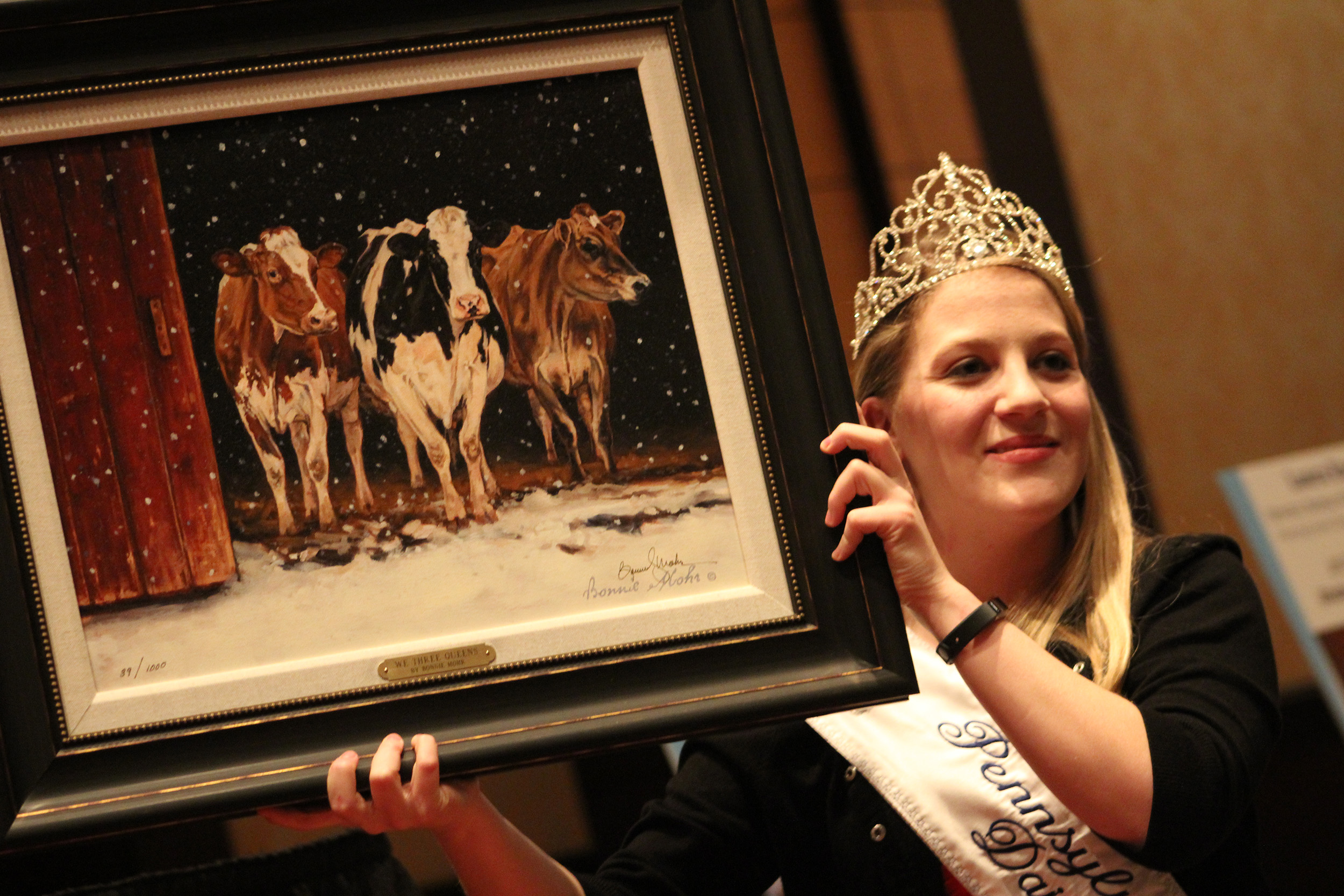 2016 – 2017 PA State Dairy Princess Royalty Team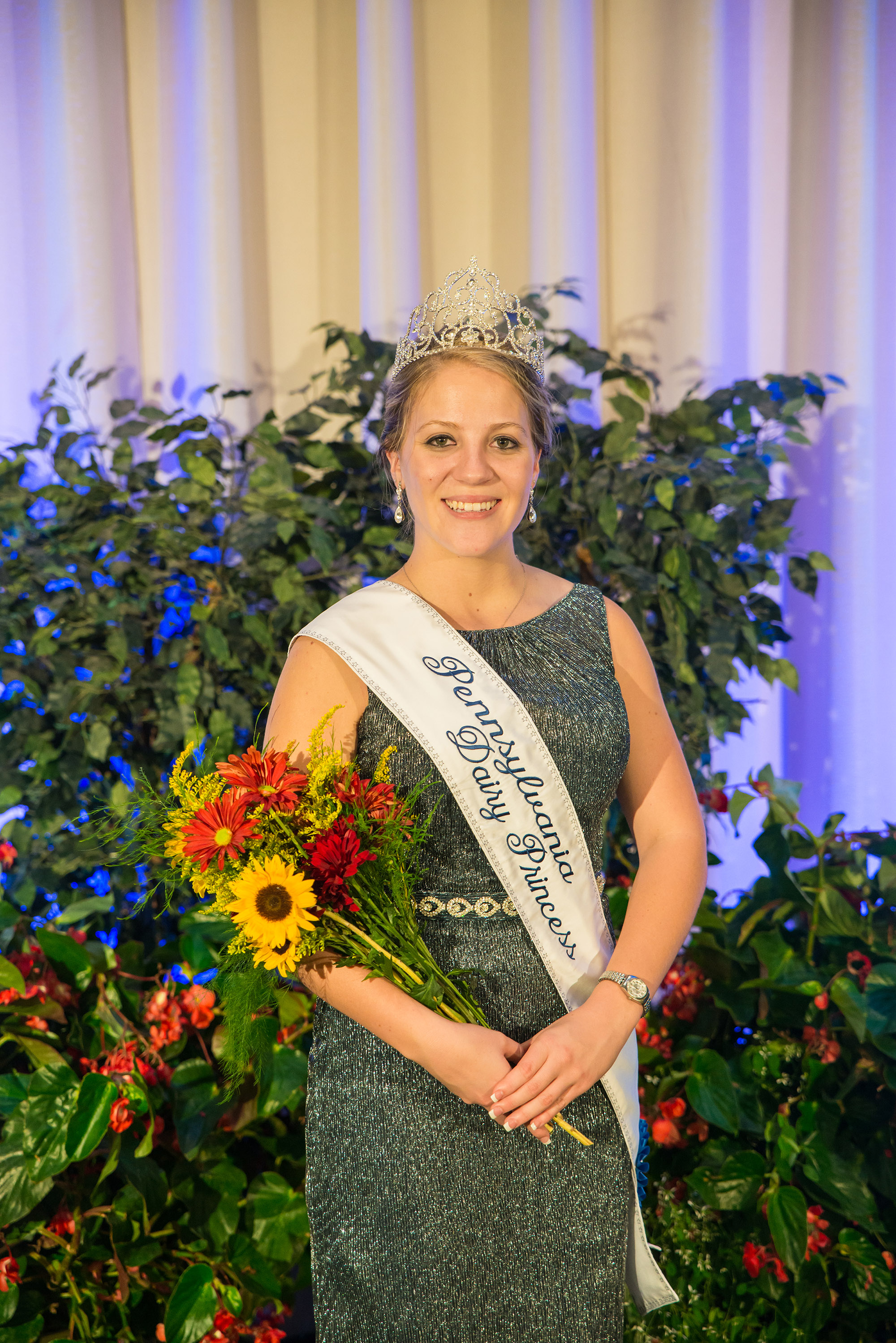 Halee Wasson
2016-2017 PA State Princess
State College, Pa.
Centre County Dairy Princess
Halee is the daughter of Ronald and Candace Wasson. Halee has five sisters: Andrea, LaTrisha, Nicole, Krystal and Heather. Halee, a junior promoter for twelve years, works on the family's farm, Wasson Farm. The family milks 40 head of Holstein cattle and operates a seasonal produce market. She also works part-time for the PSU Center of Personnel and Professional Development. Halee is a senior pursuing a Bachelors of Science degree in Agricultural and Extension Education at the Pennsylvania State University. She is active in Ag Student Council, serving as treasurer and Dairy Science Club, serving as the ADSA liaison, as well as several other clubs on campus. Halee has received numerous Junior Holstein and FFA awards. She is a junior member of the Pennsylvania Holstein Association and a member of the Victor Grange. Halee attends Calvary Baptist Church. After graduation, Halee plans to attend graduate school to receive her masters in agricultural education.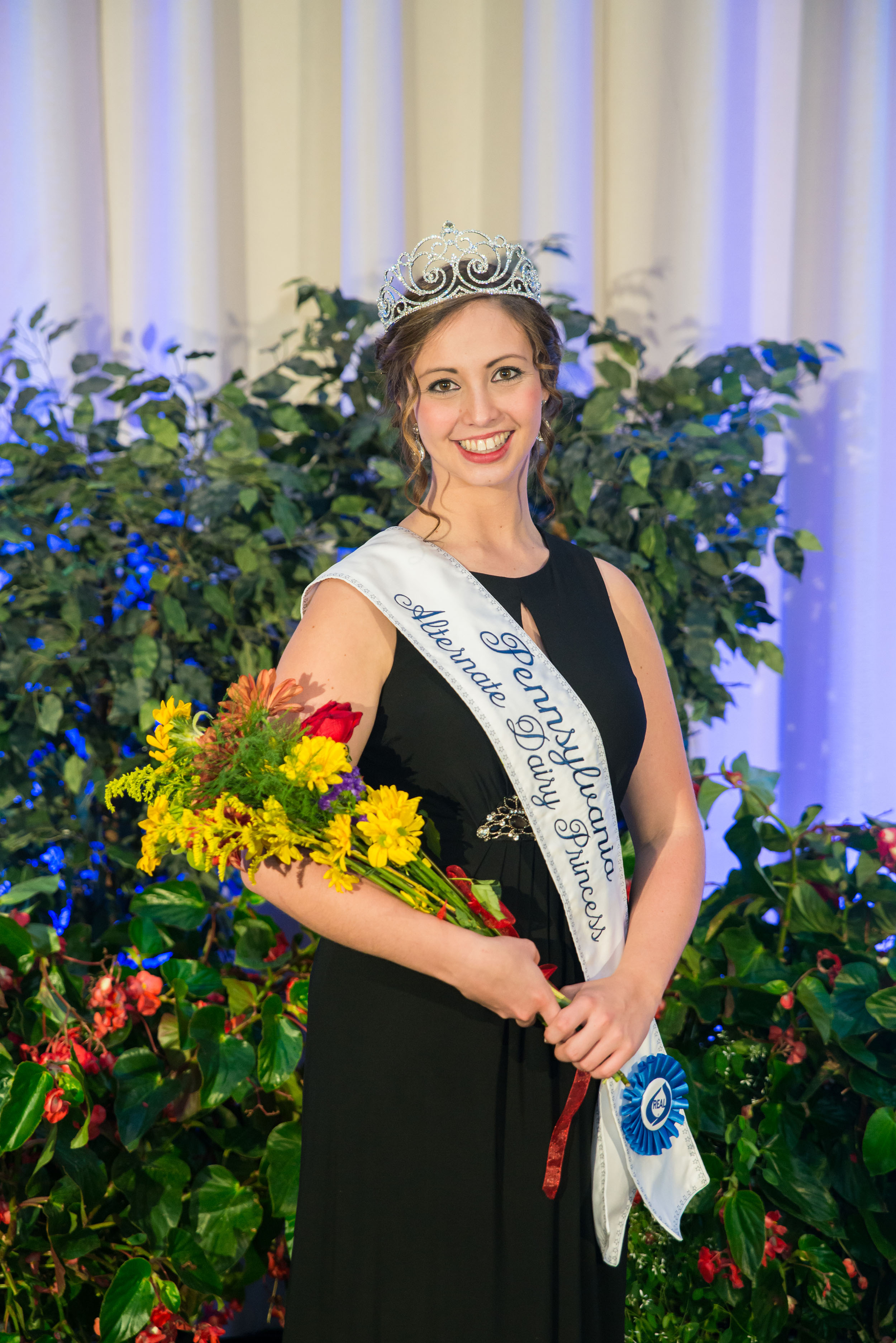 Brittany Haag
2016-2017 PA First Alternate State Princess
Mohrsville, Pa.
Berks County Dairy Princess
Brittany is a cum laude graduate of Delaware Valley University who was named the Agribusiness Departmental Student of the year. She currently lives with her parents, Mary and David Haag and her younger sister, Samantha. Her older brother, Michael and his family own and run the family dairy farm. Brittany also has an older sister Jessica. Together, they teach dance at Culture Shock Performing Arts Center. While a student at Delaware Valley University, Brittany was involved with Dairy Society, Farm Bureau, Sigma Alpha, National Agri-Marketing Association and Dance Team. Brittany is employed at Branches of Dance, Dance Studio. She is often found preparing for the new dance season, dancing or teaching dance. Brittany's hobbies include singing, reading, cows, working, gardening and working out. She is active in her local grange and local church, including Sunday School, Vacation Bible School, serving at shelters and attending mission trips.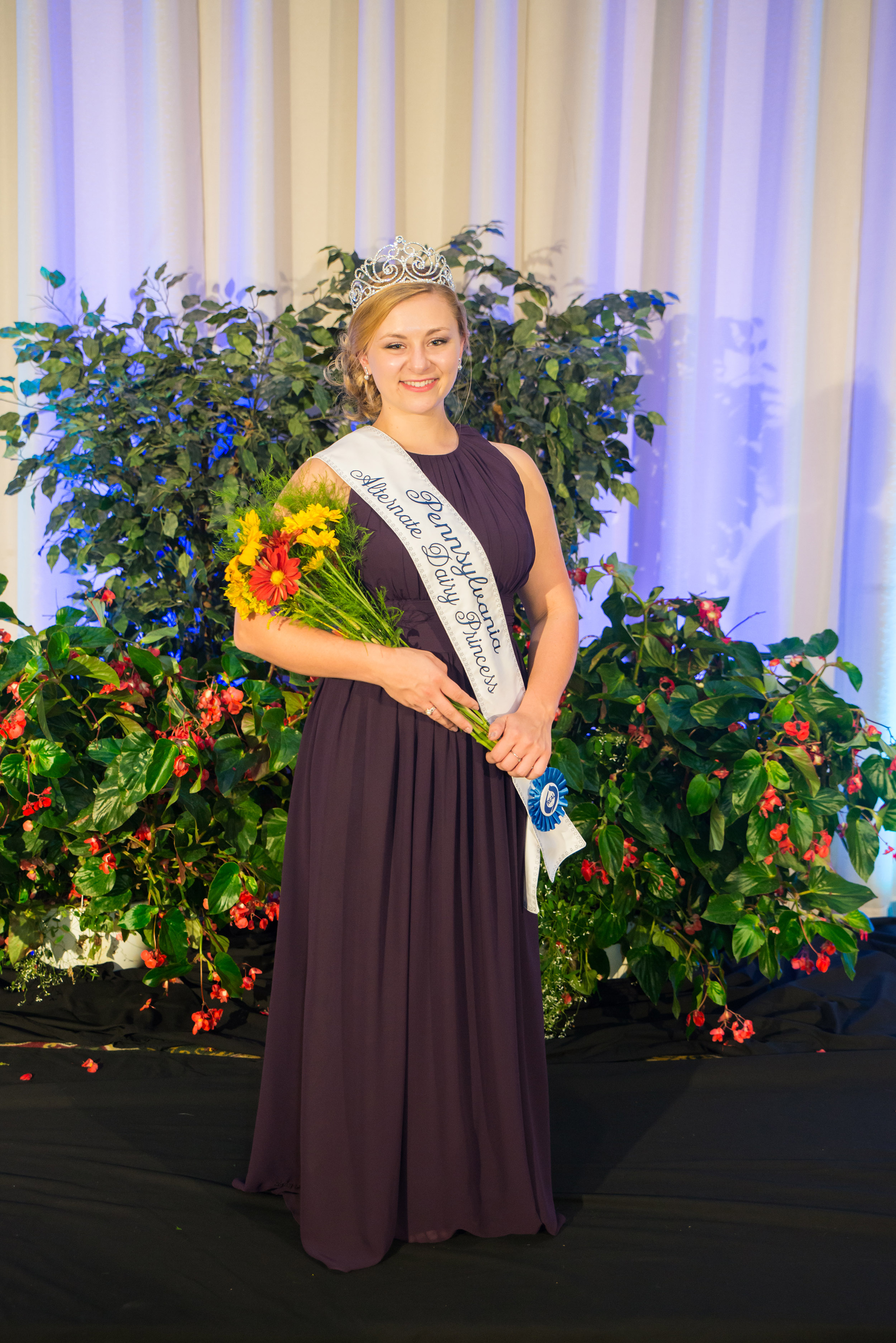 Katie Anderson
2016-2017 PA Second Alternate State Princess
Three Springs, Pa.
Huntingdon County Dairy Princess
Katie is the daughter of Wayne and Carrie Anderson and lives in Huntingdon County. Katie, along with her brother, Keith, raise sheep on their small farm. She currently works on the Cornellius family dairy, where she milks cows, operates equipment and feeds calves. Katie attends Pennsylvania Highlands Community College and is majoring in Business Management. After graduation, she hopes to earn a position managing a local dairy farm. Katie is a member of the Alpha Sigma Pi Honor Society and Southern Pride 4-H Club, where she has served as a livestock leader, teen leader and past officer. Katie is an active member of the Southern Huntingdon County FFA Chapter, where she has held officer positions. She is also a member of PA Farm Bureau and Holstein Association; Katie enjoys scrapbooking, sewing, showing livestock, milking cows and attending Upper Path Valley Presbyterian Church.